Funding your education using student loans can be pretty useful. Here is an insightful guide on all you need to know about the best private student loans of 2022.
You have deftly tackled the nerve-wracking pressure of getting into the college or university of your dreams. You have the scores, a host of co-curricular activities to show your mettle, and the only thing left to do is secure a student loan to fund your education.
Quite a significant number of students are in your shoes right now. In fact, studies reveal that a whopping 71% of students course through college with the help of student loans every year on average. Not that startling, if you think about the high cost of education at the leading higher education institutions all across the world.
Since you are at the threshold of applying for one, it is best to proceed with all the knowledge that you can get your hands on regarding student loans. Presented here is a quick overview of the crucial facts and factors pertaining to student loans along with the 5 best private student loan options you can explore.
6 Best Private Student Loans for 2022
Prior to approaching a lender for a private student loan, you must know that you will need to have to meet a number of criteria for your loan to be approved.
Carefully consider if you have a good credit score (or having a creditworthy co-signer will also do the trick) and have read their terms and conditions before you apply.
Here are the six best private student loans that will help you pay off the high tuition fees for college or university.
LendKey offers repayments terms ranging from five to 20 years. Borrowers can include parents of students, parents of graduates and degree holders as well as current undergrad and graduate students. To be eligible, U.S. citizens and permanent residents must have proof of citizenship or residence permit as well as proof of income. Potential borrowers can check their eligibility online and then receive offers from LendKey's networks of community lenders.
The minimum loan amount starts at $7,500 and goes up to $250,000, with rates as low as 3.75% or 4.86% depending on if you go with a variable or fixed APR.
Don't meet the requirements or want to qualify for a lower interest rate? LendKey allows for borrowers to add a cosigner to the loan to help borrowers meet eligibility and get the interest rate that works best for them. This isn't the only benefit to considering a LendKey loan, they also offer unemployment protection. If you lose your job-or have just finished school- loan payments are placed on temporary hold.
Click here to learn more about Private Student Loans with LendKey.
Loan repayment terms of 5, 10 or 15 years
25% reduction in interest rates if you go for auto-repaying options while still in college or university
25% reduction in interest rates for existing Citizens bank account holders
Fixed APR of 4.72% – 10.90%
Variable APR of 2.76% – 10.87%
No application, prepayment, disbursement or origination fees required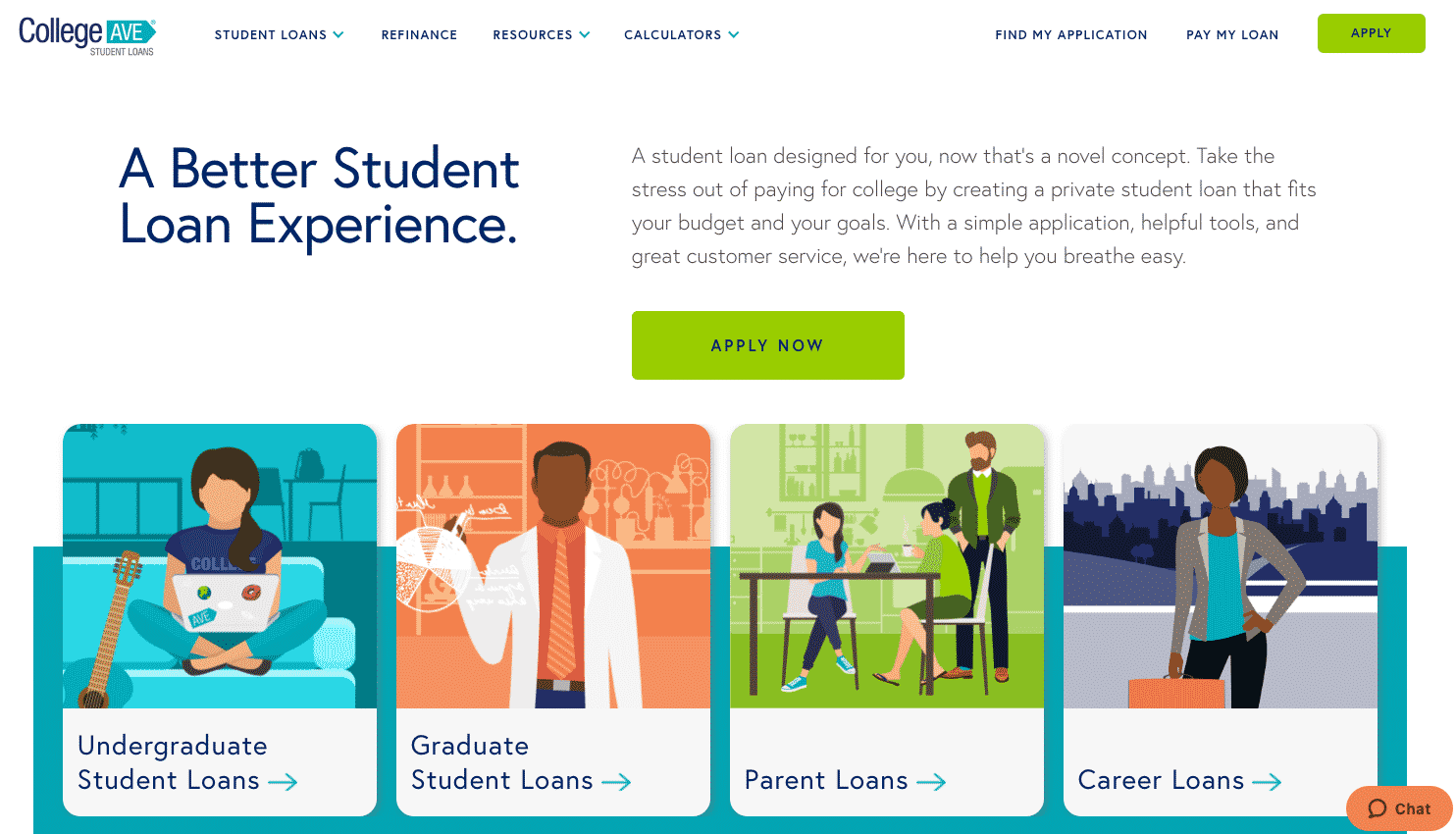 College Ave offers undergraduat, graduate, parent, and career loans to help you pay for college and get ahead after graduation.
Students must be enrolled in a degree program and attend classes at an eligible institution to be eligible for these loans. Career loans are available for courses such as those offered by community colleges.
In order to get a private student loan, you'll generally need a credit score in the mid-600s and other application criteria such as positive credit history and different positive accounts.
You can get a private student loan here with a co-signer. Having a co-signer may help you get approved for a loan and/or get a lower interest rate.
Potential student loan borrowers can check for preapproval and get a decision on their application right away online.
College Ave recommends applying for a student loan at least 30 days before your classes start, and they will work with your school to certify the loan.
Loan term length of 5, 8, 10, or 15 years1
No application, origination or prepayment fees required
0.25% reduction in the interest rate2 when enrolled to make automatic payments
Fixed APR of 4.31% – 12.07% [Rates include Auto-pay discount]
Variable APR of 3.54% – 10.81% [Rates include the Auto-pay discount]
Good or excellent credit score needed (get a co-signer if you have a bad or no credit score)
Click here to learn more about Private Student Loans with College Ave Student Loans.
Covers up to 100% of education costs (including college-approved expenses)
Offers interest rate reductions (subject to terms and conditions)
15-minute response time after applying
No origination, prepayment or application fees
Fixed APR of 4.74% – 11.85%
Variable APR of 2.75% – 10.65%
Good or excellent credit score required (you can opt for a co-signer in case you do not have a credit score)
Re-financing options of existing private student loans to the new student loan module
Loan terms to choose from 7, 10 or 15 years
Fixed APR of 5.35% – 14.05%
Variable APR of 3.75% – 12.75%
50% reduction in interest rate if you choose the auto-payment option when in college or university
No application or origination fee required
Loan repaying cluster options (principal and interest, partial interest, interest-only, deferred payment) available when in college or university
Good or excellent credit score needed (opt for a co-signer if you do not have a credit score)
Covers up to 100% of your education costs (including college-approved estimations of tuition and additional resources)
Offers an interest-only repayment discount
Includes 1% cash reward as an acknowledgement for good grades
A simplified application process that provides the promptest feedback
Fixed APR of 4.74% – 12.74%
Variable APR of 2.80% – 11.37%
No origination or prepayment fees needed
A good or excellent credit score is needed (you can get a creditworthy co-signer in case you have a bad or no credit score to show)
Federal and Private Student Loans – Know the Difference
The likes of Barack Obama and plenty of Hollywood actors (including Jane Lynch and Finesse Mitchell) have supplemented the high fees at college and university through student loans, whether federal or private. Before even considering if your student loan debt will be worth it — here are the basics of federal and private student loans.
Federal Student Loans
A federal loan stands for a loan that you borrow from the government. You are basically using the taxpayers' money to get your college or university degree, hence repaying federal loans come with a different level of responsibility altogether. However, since interest rates are comparatively lower in federal loans and one does not require having a great credit score, most students take a lackadaisical approach when the time comes for repayment. You will also find options for paying as per your level of income or alternative repayment options if you apply for federal loans.
Private Student Loans
In case you opt for a private student loan, a credit union, bank or online lender provides you with the money that you need to pay your way through getting a higher education degree. They can have varying rates of interest (that is usually dependent on the loan provider and the type of interest you choose) and have comparatively rigid repayment options. However, since the rules regarding what you do with the loan money are quite lax in case of private loans, you can come up with ingenious tricks to pay it off way before it starts accumulating interest.
Take the stress out of paying for college by creating a private student loan that fits your budget and your goals. With a simple application, helpful tools, and great customer service, these private student loans are designed to help you breathe easy.
8 Things You Must Consider While Comparing Your Student Loan Options
Gone are the days when only the rich kids and the people with scholarships could apply for the courses with higher admission fees. With the introduction of student loans, everyone can apply for their dream courses now. However, choosing the right loan option can be quite taxing for you and that's why we created this private student loans guide.
In America, you have two choices for student loans. The federal loan option is funded by the federal government, while the other one, the private loan, is funded by the lenders like the banks, credit union, state agency or even a school.
Most people choose the federal loans since they offer some innate perks and protections, along with standardized interest rates. Also, you don't need a co-signer on this one. However, the amount of loan is set by the Congress, which means it may not cover all your costs. Also, not everyone is eligible for the loan.
On the other end, private student loans allow you to apply for a loan that covers all your expenses, but you need a co-signer in this case. Also, the interest rates in this option are comparatively higher than federal loans.
You may need to consider several things while choosing the loan option for you, and if you are clueless about where to start, the following list may help you get the drift.
Your eligibility
There are several criteria that determine whether you are eligible for a student loan or not. In case of a federal student loan, your eligibility for the loan is decided upon your financial need. If your parents make a good income, you may not receive the student loan from the federal government.
On the flipside, the private student loan options are flexible about the matter of financial needs. Anyone can apply for a private loan since it is not subsidized. However, there are several requirements that you need to comply with in order to approve the student loan. And since you need a co-signer for the private loan, the lender may fix some requirements for your co-signers as well.
It's always better to go through the eligibility requirements for all the loan options you have considered (federal or private). A little bit of research can save you from an embarrassing blunder.
Interest rates
The federal student loans come with a fixed interest rate, which is certainly lower than most of the private loan options. However, if you don't qualify for the federal loans, you may need to consider the private student loan options only.
Interestingly, private student loans can have variable interest rates. In fact, some loan options come with interest rates as high as 18 percent. So, evidently, you need to learn about the interest rates of each and every option you are considering and then determine which one offer lower interest rates in the list.
Surprisingly, there are several private student loan options that offer lower interest rates than the federal loan. So, if you are lucky, you may get a better deal than a federal student loan, with all the benefits of a private loan.
The tenor of repayment
Apart from the interest rates, there is another factor that determines how much you need to spend while repaying the loan. It's the time left for repayment of the loan, which is often termed as "tenor".
In case of a private student loan, you can have the option to choose the tenor for repayment. A shorter tenor means you will pay higher monthly installments and vice-versa. You need to find a tenor that complies with your resources.
The longer tenor may seem attractive as it demands lesser amount each month, but if you look at the bigger picture, you end up paying more (cumulatively) when you choose the longer tenor. So consider being very careful about this matter while choosing a loan option.
The grace period
The grace period is the timeframe that you are provided with before making the first loan payment. Sadly, not all the student loan options come with such facility. There are some private loan options that require payments while you are still pursuing the course.
The federal student loans usually offer a significant amount of grace period for the repayment of the loan, but if you are opting for a private student loan, then you may need to consider this matter seriously.
Forbearance and deferment
People often feel the need to take breaks in payments, and the chances are that you may also need the same. Forbearance and deferment can be really useful in those cases. Forbearance allows you to stop the loan payment process entirely or reduce the payment amount for a certain period. However, the interest is likely to build up.
A deferment allows you to stop paying the principal amount as well as the interest if there are enough reasons. However, both the options – forbearance and deferment are available in federal loan options. Private student loans usually don't offer such options. Still, you can check if a private loan is available with such options.
The additional benefits
If you are qualified for a federal loan, you may not need to investigate about all the additional perks you get alongside the loan amount, but in case of a private student loan, it is wiser to learn about all the benefits the loan brings to you.
Since there are too many options for a private bank loan, most of the companies come up with lucrative deals to convince students in taking up their loan options. You can use that to your advantage and evaluate all the additional benefits you are getting from each of the options you have shortlisted.
The fees besides the interest
The interest rates certainly play a crucial role in determining how much you need to pay in return. But, there are several other fees that you need to worry about while choosing a student loan option. A lot of private loans come with a high application and origination fees.
The federal loans may not have such fees, but you should check with the school if there are any hidden charges. In case of private loans, you may need to pay a fee in case you decide to pay extra or early one month. These fees may not seem like a significant amount in front of the principal amount, but it is better to know such things.
The likeliness of repaying the loan
Before you apply for a loan amount, you need to ask yourself a question. "Will I be able to repay the amount after finishing the course?" Well, every year, thousands of students take loans from the federal government or a private money lender, but sadly, a lot of them fail to repay the money within the given tenor for various reasons.
If the course you are willing to pursue does not offer a high-paying job, or the chance of getting a job is really slim, then you should evaluate whether it is a good idea to take the loan or will it be better if you reconsider the whole decision. It may save you from a catastrophe.
These aforementioned tips may require a certain level of research work. However, the results are always satisfying. So do your research and compare all your loan options before making the final call.
When it comes to taking out a loan, it's tough to know where to start. There are thousands of banks, credit unions, and other lenders across the country to choose from.
That's where Credible comes in. Credible compares offers from a variety of lenders so you don't have to. After you enter a few pieces of basic information on the Credible site, it will show you preliminary loan offers from multiple lenders.
If you find an offer you like from Credible, you can take out a private student loan or refinance your student loans. If not, you aren't committed to any of the offers.
Click here to learn more about how Credible simplifies the loan shopping process.
Best Private Student Loans Summary
This list is not a comprehensive one by any means. There are definitely many more student loan options available to you — both private and federal — that we encourage you to research and consider as well.
The loans listed here are some of the best in regards to benefits and future opportunities, such as the interest rate reduction for meeting various requirements.
You can use sites like LendKey to help you pick the best private student loan with the lowest rates:

When choosing a loan, remember to consider variable versus fixed rates and also the repayment plans offered. You might not have the resources to repay a loan immediately after you graduate and enter the workforce. In that case, deferment options and grace periods are highly beneficial.
Whether it a public, non-profit private or for-profit private higher education institution, you can ease a considerable portion of the financial burden if you choose to go for private student loans. It is a common case for almost every student aspiring for higher education. Consider all the factors carefully before you apply for one, and make sure that you are wise with spending the money.
With oodles of confidence, a fiery passion for academics and all-around know-how of the workings of the world, you will surely be able to repay your student debt once you start earning a living after graduation. Good luck on securing a suitable private student loan to give wings to your scholastic aspirations!
Any questions on any of these best private student loans for 2022? Sound off below!
1This informational repayment example uses typical loan terms for a freshman borrower who selects the Deferred Repayment Option with a 10-year repayment term, has a $10,000 loan that is disbursed in one disbursement and a 8.35% fixed Annual Percentage Rate ("APR"): 120 monthly payments of $179.18 while in the repayment period, for a total amount of payments of $21,501.54. Loans will never have a full principal and interest monthly payment of less than $50. Your actual rates and repayment terms may vary.
2The 0.25% auto-pay interest rate reduction applies as long as a valid bank account is designated for required monthly payments. Variable rates may increase after consummation.