Funding your education using student loans can be pretty useful. Here is an insightful guide on all you need to know about the best private student loans of 2020.
You have deftly tackled the nerve-wracking pressure of getting into the college or university of your dreams. You have the scores, a host of co-curricular activities to show your mettle, and the only thing left to do is secure a student loan to fund your education.
Quite a significant number of students are in your shoes right now. In fact, studies reveal that a whopping 71% of students course through college with the help of student loans every year on average. Not that startling, if you think about the high cost of education at the leading higher education institutions all across the world.
Since you are at the threshold of applying for one, it is best to proceed with all the knowledge that you can get your hands on regarding student loans. Presented here is a quick overview of the crucial facts and factors pertaining to student loans along with the 5 best private student loan options you can explore.
6 Best Private Student Loans for 2020
---
Want free money?
Aspiration: Want to get spotted a $100 for free? Simply sign up for Aspiration, and the free banking app will give you cash for free, you just relax while it gives you $100 just for opening a new debit card. There's no catch. This bank account is legit and only takes two minutes to sign up for an account.
---
Prior to approaching a lender for a private student loan, you must know that you will need to have to meet a number of criteria for your loan to be approved.
Carefully consider if you have a good credit score (or having a creditworthy co-signer will also do the trick) and have read their terms and conditions before you apply.
Here are the six best private student loans that will help you pay off the high tuition fees for college or university.
LendKey offers repayments terms ranging from five to 20 years.  Borrowers can include parents of students, parents of graduates and degree holders as well as current undergrad and graduate students. To be eligible, U.S. citizens and permanent residents must have proof of citizenship or residence permit as well as proof of income. Potential borrowers can check their eligibility online and then receive offers from LendKey's networks of community lenders.
The minimum loan amount starts at $7,500 and goes up to $250,000, with rates as low as 3.75% or 4.86% depending on if you go with a variable or fixed APR.
Don't meet the requirements or want to qualify for a lower interest rate? LendKey allows for borrowers to add a cosigner to the loan to help borrowers meet eligibility and get the interest rate that works best for them. This isn't the only benefit to considering a  LendKey loan, they also offer unemployment protection. If you lose your job-or have just finished school- loan payments are placed on temporary hold.

Click here to learn more about Private Student Loans with LendKey.
Loan repayment terms of 5, 10 or 15 years
25% reduction in interest rates if you go for auto-repaying options while still in college or university
25% reduction in interest rates for existing Citizens bank account holders
Fixed APR of 4.72% – 10.90%
Variable APR of 2.76% – 10.87%
No application, prepayment, disbursement or origination fees required
Good or excellent credit scores needed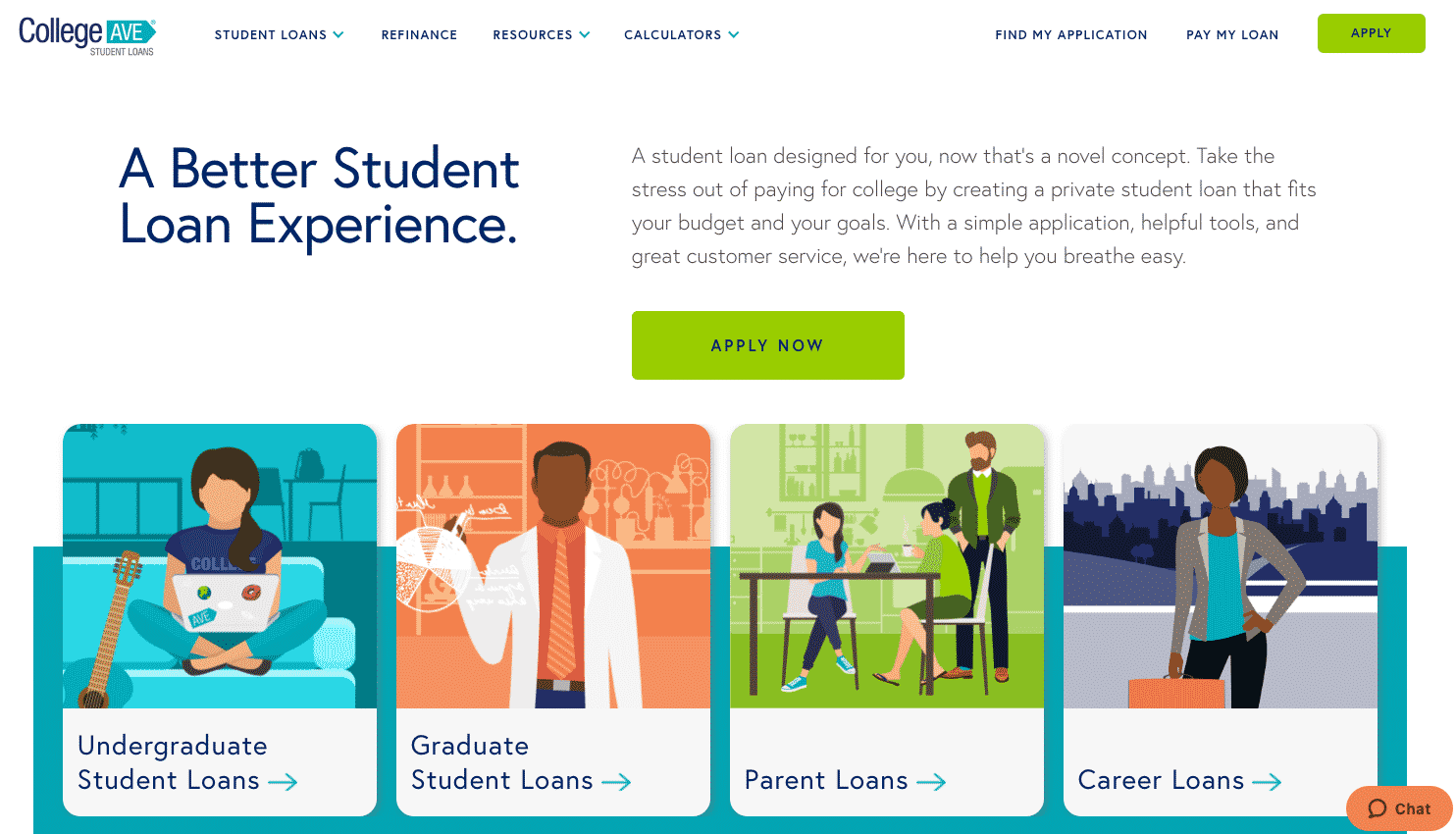 Loan term length of 8, 10, 12 or 15 years
No application, origination or prepayment fees required
25% reduction in the interest rate for auto-repaying methods while in college or university
Fixed APR of 4.31% – 12.07%
Variable APR of 3.54% – 10.81%
Good or excellent credit score needed (get a co-signer if you have a bad or no credit score)
Covers up to 100% of education costs (including college-approved expenses)
Offers interest rate reductions (subject to terms and conditions)
15-minute response time after applying
No origination, prepayment or application fees
Fixed APR of 4.74% – 11.85%
Variable APR of 2.75% – 10.65%
Good or excellent credit score required (you can opt for a co-signer in case you do not have a credit score)
Re-financing options of existing private student loans to the new student loan module
Loan terms to choose from 7, 10 or 15 years
Fixed APR of 5.35% – 14.05%
Variable APR of 3.75% – 12.75%
50% reduction in interest rate if you choose the auto-payment option when in college or university
No application or origination fee required
Loan repaying cluster options (principal and interest, partial interest, interest-only, deferred payment) available when in college or university
Good or excellent credit score needed (opt for a co-signer if you do not have a credit score)
Covers up to 100% of your education costs (including college-approved estimations of tuition and additional resources)
Offers an interest-only repayment discount
Includes 1% cash reward as an acknowledgement for good grades
A simplified application process that provides the promptest feedback
Fixed APR of 4.74% – 12.74%
Variable APR of 2.80% – 11.37%
No origination or prepayment fees needed
A good or excellent credit score is needed (you can get a creditworthy co-signer in case you have a bad or no credit score to show)
Federal and Private Student Loans – Know the Difference
The likes of Barack Obama and plenty of Hollywood actors (including Jane Lynch and Finesse Mitchell) have supplemented the high fees at college and university through student loans, whether federal or private. Before even considering if your student loan debt will be worth it — here are the basics of federal and private student loans.
Federal Student Loans
A federal loan stands for a loan that you borrow from the government. You are basically using the taxpayers' money to get your college or university degree, hence repaying federal loans come with a different level of responsibility altogether. However, since interest rates are comparatively lower in federal loans and one does not require having a great credit score, most students take a lackadaisical approach when the time comes for repayment. You will also find options for paying as per your level of income or alternative repayment options if you apply for federal loans.
Private Student Loans
In case you opt for a private student loan, a credit union, bank or online lender provides you with the money that you need to pay your way through getting a higher education degree. They can have varying rates of interest (that is usually dependent on the loan provider and the type of interest you choose) and have comparatively rigid repayment options. However, since the rules regarding what you do with the loan money are quite lax in case of private loans, you can come up with ingenious tricks to pay it off way before it starts accumulating interest.
Take the stress out of paying for college by creating a private student loan that fits your budget and your goals. With a simple application, helpful tools, and great customer service, these private student loans are designed to help you breathe easy.
Best Private Student Loans Summary
This list is not a comprehensive one by any means. There are definitely many more student loan options available to you — both private and federal — that we encourage you to research and consider as well.
The loans listed here are some of the best in regards to benefits and future opportunities, such as the interest rate reduction for meeting various requirements.
You can use sites like LendKey to help you pick the best private student loan with the lowest rates:
---
Games that pay you to play (yes, we're serious)
These three apps will pay you to play games on your mobile device.
Solitaire Cube (iOS) - Earning money by playing games on your phone sounds like a dream. But this app really pays you for playing solitaire with cash rewards.
Mistplay (Android) - If you have an android device, you can download this app and start getting cash rewards for playing new games.
---

When choosing a loan, remember to consider variable versus fixed rates and also the repayment plans offered. You might not have the resources to repay a loan immediately after you graduate and enter the workforce. In that case, deferment options and grace periods are highly beneficial.
Whether it a public, non-profit private or for-profit private higher education institution, you can ease a considerable portion of the financial burden if you choose to go for private student loans. It is a common case for almost every student aspiring for higher education. Consider all the factors carefully before you apply for one, and make sure that you are wise with spending the money.
With oodles of confidence, a fiery passion for academics and all-around know-how of the workings of the world, you will surely be able to repay your student debt once you start earning a living after graduation. Good luck on securing a suitable private student loan to give wings to your scholastic aspirations!
Any questions on any of these best private student loans for 2020? Sound off below!
Want free money?
Robinhood is a free investing app for your phone. I really mean free all around – free to join and they don't charge any fees to buy or sell the stock. You can get a share of stock like Apple, Ford, or Sprint for free when you join through this link. The value of the free share may be anywhere between $2.50 and $500 and fluctuates based on market movements. You've got nothing to lose.