If you're serious about ways to pay off student loans faster, you NEED to have a plan of action on how to pay back student loans. You must consider all your student loan repayment options and decide if you should refinance your student loans or seek student loan forgiveness programs.
Why?
Well, student loan debt is an issue in 2022 and many analysts say the nation's record-high $1.5 trillion in student loan debt is also casting a nasty shadow over the economy, delaying first time home purchases, slowing down consumer spending and inhibiting business formation.
And it delays the economic life cycle for Millennials. Trust me, I had my own battle with student loans and my story got featured on AOL Finance when I managed to pay off $30,000 of student loans in just 12 months.
I know, I hope that we can agree that student loans can suck and are student loans even worth it?
I took everything I learned and put it together in this student loan guide and you're going to learn everything you need to know about how to pay off your student loans faster. Let's do this.
1. Get Your Student Loans Organized
Even if you're not a natural-born organizer, a spreadsheet or working document will be a great help in organizing your student loans. The more loans you have, the more it will help.
Find Out How Much Student Loan Debt You Owe
Before you can start digging your way out, you need to know just how much in student loan debt you are.

Take inventory of your student loan debt — the total balance, interest rates, and minimum monthly payments. For the debts you're aware of and have account information for, you can get your debt details in a few ways:
Log into your lender's online account management system.

Find your most recent account statements.

Contact your lender by phone.
If you think you might have student loans you've lost track of, work to find them. Pull your free annual credit reports, then check for debts and accounts you might have missed. For student loans, you can use the National Student Loan Data System to find any educational debts that have fallen off your radar.
Organize your Student Loan Information
For Google users, Google Spreadsheet lets you keep updated lists and edit them from any device. (But be wary of entering sensitive info, such as your Social Security Number or bank account numbers, in a Google document or any document online.) A Microsoft Excel spreadsheet should also do the trick, with no advanced formatting skills required.
Get started with these nine columns:
1) Type of student loan.
Note whether your loan is federal or private, and subsidized or unsubsidized.
2) Name of loan servicer (company managing the loan).
If you have separate loans with the same servicer, list them separately.
3) Contact information for loan servicer.
List their phone number, e-mail, and website so you can easily get in touch when you need to.
4) Date the loan was disbursed (given out).
This date may determine some loan benefits you're eligible for, so keep it on hand.
5) Loan interest rate.
In addition to the rate, note whether the interest rate is fixed (the same over the loan's life) or variable (subject to change over the loan's life). Ask your servicer for this information if you don't know.
6) Loan status

.
Is your loan in repayment, in deferment, in forbearance, or in a grace period?
7) Total pay off amount on loan.
This number may be intimidating, but it's an important one to remember – and gratifying to watch reduce over time.
8) The monthly payment amount.
Fill out this column even for loans not currently in repayment, so you don't lose track of the loan.
9) Next payment date, or the date when the grace period ends.
This is the column you'll probably be updating the most often.
Now that you have all the information in one place, you're better equipped to figure out the ideal repayment plan. Make sure to update the columns regularly as payment plans change.
Most spreadsheets let you reorder columns as you see fit. For example, many student loan holders prioritize paying down the loans with the highest interest rates. You can sort your loans in descending order by the interest rate to see which is the highest.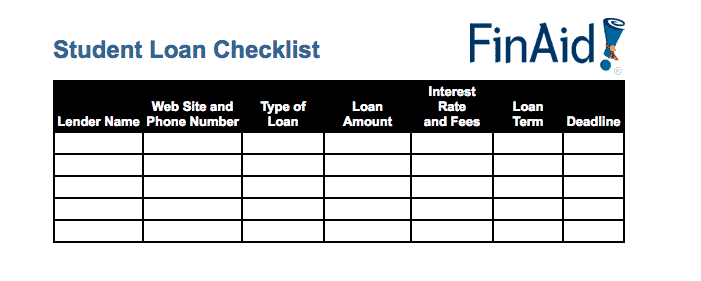 Tip: Put all your paperwork for each loan in its own file folder labeled with the lender name, date borrowed, original loan balance and loan id. Put a note in your calendar at least a week before your first payment is due.
Your loan companies probably send you plenty of e-mail. Make separate folders in your inbox for each loan servicer. Set up your e-mail to send you an alert each time you receive a loan servicer's message or update. Mark monthly billing statements either to-be-paid or paid; most e-mail services let you give messages different priority ratings for organizing purposes. Filing messages keeps you on top of other important deadlines, like when to renew income-based payment plans.

Keep any snail mail you get from loan companies in one place. Mail and letter sorters can help; so can labeled file folders. If the mail gets overwhelming, you can ask companies to send you updates electronically instead. But certain student loan forms—tax forms, for instance—will come through the postal mail. File them as soon as they arrive.

Additionally, take some time to organize all the student loan documents you've signed or received, electronically and in hard copy. These can include promissory notes, disclosure documents, and financial aid award letters from when you first took out the loan. Sort these documents by loan servicer and keep them in one place.
2. Paying Off Student Loans
Don't Miss Student Loan Payments
Find out if you have a grace period for your student loans.  Many student loans offer a grace period (or deferment) of 6 months after your graduation date to start paying back your student loans.  Oftentimes, there is an option to extend the grace period, so be sure to do your research.
One quarter to one third of borrowers are late or delinquent on the very first payment on their student loans. Most student loans have a six-month grace period before repayment begins. Students often move after graduation, losing track of bills. The loan payment is due even if you do not receive a statement or coupon book. Be sure to notify the lender about any changes in address or contact information. Borrowers who consolidate their federal student loans are more likely to pay on time, with less than one fifth missing the first payment, in part because the first payment is due soon after consolidation.
Research Your Student Loan Options
If you have a federal student loan, use the Financial Student Aid resources on the Department of Education's website to help determine which student loan repayment option is right for you.
If you have a private student loan, then you need to know who owns your debt right as of today.  Oftentimes you take out a loan with a large private student loan servicer such as Navient or National Collegiate Student Loan Trust and they later hand that debt over to another entity to collect on the debt.  Problems arise when you ignore letters or bills from this new entity, as you do still owe the student loan debt.
Automatic Payments of Your Student Debt
Set up an automatic direct debit from your checking account to make the monthly payments on your loans. Borrowers with auto-debit are much less likely to miss a payment. Many lenders offer discounts for borrowers who set up auto debit. Federal loans offer a 0.25% interest rate reduction while private student loans often offer a 0.25% or 0.50% interest rate reduction for the remainder of the repayment period. Some lenders will require electronic billing to get the discount.
Accelerate Repayment of High-Interest Student Loan Debt First
Student loans do not have prepayment penalties. (You are not penalized if you pay off your student loan in one large lump sum or make more than the minimum payment) Making an extra payment can save you money. After you make the requirement payments, direct any extra money toward accelerating repayment of the most expensive debt first. The most expensive debt is the debt with the highest interest rate, not the lowest monthly payment. Usually this is credit card debt and private student loans. Paying an extra $100 on a 10% loan is like earning 10% interest, tax-free, and may save you more than $200 over the life of the loan depending on the type of loan.
Example:  If you can afford it, treat the loan like a mortgage and simply make larger payments to cut the principal more quickly.
For example, a $25,000 student loan with 6.8% interest with a 10-year payback period would cost $288 a month. Paying $700 a month instead of $288 enables the borrower to repay the loan in just over three years.
Another strategy is adding payments and sending in checks every two weeks rather than monthly.
4. Do These Student Loan Hacks (Cheat Sheet)
Use a Cash Windfall
Cash windfalls come in various forms. These can include lottery winnings, job bonuses, an inheritance, a settlement from a lawsuit or insurance claim, and more.
When you suddenly get a chunk of money from these sources or others, you might be tempted to spend it. Use it for paying off student loans faster. Even if you don't get an inheritance or something similar, many taxpayers get a cash windfall once a year in the form of a tax refund.
The main takeaway: put at least some of your tax refund (and/or cash windfalls) toward student loan debt, even if you don't want to devote 100%.
Decrease your Budget
If you want to make more money but can't easily increase your income, learning how to live cheap is an option. While it may sound extreme, some have trimmed their budget drastically.
The key to success: you only have to do this short-term. It's not for the rest of your life, but rather a short period where you're focused on paying off student loans faster. A few common options are:
Cancel cable TV or get cable alternatives

Don't go out to restaurants

Get free or cheaper internet

Give up alcohol

Work extra hours or take on side work (side hustles)
The options here are really only limited to your creativity and motivation.
Even if you can only handle it for a month at a time, it can still benefit your student loan repayment. Maybe you have a "no spend month" where you don't buy any new stuff all month and put the money toward student loans instead.
Be Strategic About Your Debt
The first step is to add more money to your student loan repayment. But how you pay off the debt could make a big difference, too.
For all student loans, it makes the most sense to pay off the highest interest loans first. This is called the "debt avalanche," meaning that you pay just the minimum on all but the student loan with the highest rate.
You might be best off targeting private student loans first, too. Repaying private student loans often means higher interest rates and less flexible repayment terms compared to federal student loans. Private loans can have variable interest rates too.
Your best option for relief from private student loan repayment might be to consolidate and refinance your private loans. You can refinance private student loans with a variety of banks. In this case, the goal is simple: Consolidate to interest rates that are lower than what you currently pay, which might also reduce your private student loan payment amounts.

First, however, there's one important caveat. Unlike consolidating federal student loans, consolidating private loans isn't automatic. You'll need to apply and be approved. This is yet another reason why it's important to improve your credit score, which will influence whether you're approved.
Organize a Payment Plan for your Student Loans
Make an overall budget for your monthly income and expenses to include your student loan payments. Make sure you have all payment due dates noted. Use a spreadsheet or a budgeting tool to help you track where and how you spend your money.
Set up automatic payments

for your student loans, so you don't miss any. Some lenders often a small discount on your interest rate if you set this up.

Accelerate the repayment of high-interest student loans first

.  You always want to tackle high-interest loans of any kind first.
5. Look into Refinancing Your Student Loans
Fortunately, for many graduates, refinancing can be a great opportunity to help with loan payments.  First, you have to ask yourself why you are refinancing. Do you want to lower your interest rate, or would you like a longer term to lower your payments? Once you have determined why you want to refinance, I would recommend reviewing your credit report. You can get your credit report for free by using Credit Sesame. If there are any discrepancies in the report, dispute them. This could improve your score and, in turn, improve the terms of the loan.
There are hundreds of companies out there that will help you refinance your student loans, but a select few rank above the rest.
Would You Qualify for Refinancing?
Before you decide if Student Loan refinancing is right for you, you should check to see if you would qualify. Here are some common eligibility requirements:
Good Credit Score
Each lender will have a different credit score requirement, but typically you'll want to have a credit score of 700 or above.
Have a College Degree
You should have graduated with an associates' degree or higher from a Title IV school.
Employed
Most lenders require that you are employed or have sufficient income from other sources, or have an offer of employment to start within the next 90 days.
Good Repayment History
You'll want to be current on your bills, credit cards, and other loans, including student loans.
Why does it Make Sense to Refinance Student Loans?
Here are some situations where you should considering refinancing:
It's simple to check your rate and can save you a lot of money. There are a lot of competing student loan companies and that's good for you. That means you can get the best possible interest rate which can save you a lot of money. The average user saves $18,668 when refinancing. You can check your rate for all of the lenders on this page in under 3 minutes.
If you have a high-interest rate on your student loans. Fortunately, for many graduates, refinancing can be a great opportunity to help with loan payments. If you have federal or private student loans with an interest rate over 4%, then refinancing them will save you a lot of money. Student loans with 6.8% interest rates mean that you'll need to pay $586 a month in interest alone for every $100,000 you owe. You could also refinance your student loans to a longer term to help lower your monthly payments.
If you don't qualify for public student loan forgiveness. Public student loan forgiveness (PSLF) was created in order to encourage graduates to pursue full-time work in public sectors including nonprofits and government organizations. If you are working in one of these fields, and have been consistent with your payments, it's best to weigh your options and see if refinancing or PSLF will save you more money over the life on your student loan.
What are the Best Student Loan Refinancing Companies?
The five best, as provided by Student Loan Hero, are SoFi, Laurel Road, Commonbond, LendKey, and Earnest.
All of these companies offer competitive rates with a variety of term lengths, ranging from 5 years to 20 years:
Top Student Loan Refinancing Companies
If you have private and federal loans, SoFi may be your best bet, as they will refinance both loan types together. It is important to apply to several different lenders. Odds are not all of them will offer the same interest rate and terms, so shop around and get the best deal you can find. You can check your rate in under 3 minutes.
*The actual interest rate you will receive is based upon your credit score, income, savings, degree type, and/or presence of a co-signer. To increase your chances of getting approved and receiving the lowest interest rate, it is recommended applying with a co-signer.
6. What to Do if You Fall Behind on Your Student Loan Payments
Take immediate action to lower your living expenses

, so you have more money to put towards your student loan payments. Some ways to do this are to find a roommate or live with your parents, quit eating out, stop buying expensive coffees, quit shopping for things you don't need, and get a "side hustle" – another job to supplement your income.

For Federal Loans, see if you qualify for deferments, forbearances or hardship exemptions.  

Call on your loan servicer and find out if your life circumstances will qualify you.  If you miss payments for 270 days, then your student loan will be considered in default and then the debt collectors will start coming after you for the debt.

If you don't qualify and your loan is in default, there are federal loan rehabilitation programs in place to get you back on track.

 I have helped many clients who have had their wages garnished for non-payment get into loan rehabilitation programs that cost as little as $5 per month over a 9-month period.  Once payments are completed, the negative marks on their credit scores are removed and the loans will be considered in good standing.

Falling behind on private student loans is like falling behind on credit card debt.

If you go 3 months without making a payment, then you are in default and will be sued.  I usually recommend to my clients a debt settlement as a viable option to get out of private student loan debt.  A debt settlement is a negotiation between the student loan borrower and the lender that the borrower will pay back a (usually greatly) reduced amount of the debt over an extended period of time.  The lender would rather receive something from you than nothing if you declare bankruptcy. Plus, the lender doesn't want to spend the time or money on suing you and they can use the loss to offset their profits with creative bookkeeping.
Important: Be Aware of Student Loan Debt Relief Scams
Student Loan Debt Relief Companies and Student Loan Debt Law Firms are very different.

 Student loan companies are often in the news for scamming student loan borrowers.  On the other hand, debt relief attorneys are held to specific ethical and legal standards to act in their clients' best interests.  If they don't follow these standards, they will be disbarred.

If you are solicited by a student loan debt company – BEWARE!

 This is a red flag and means they probably obtained your information from a list that they bought.  Most of these companies are just out to make a buck and don't really care about your personal student loan debt struggle.
More Student Loan Pay Off Resources for You:
Interested in Refinancing Student Loans?
Here are the top 5 lenders:
Good luck with those student loans. Please leave a comment if you have any questions or to share your own personal student loan pay off tips to eliminate student loan debt.