When it comes to student loan refinancing, there's a lot to learn and we can help with our SoFi refinance review. This SoFi student loan refinancing review will help you understand the pros and cons of the company so you can decide if it's right for you.
NOTICE: Recent legislative changes have suspended all federal student loan payments and waived interest charges on federally held loans until 9/30/21. Please carefully consider these changes before refinancing federally held loans with SoFi, as in doing so you will no longer qualify for these changes or other current or future benefits applicable to federally held loan.
SoFi Refinance Review
Social Finance, known as SoFi, is the closest thing to a household name in the student loan refinancing market. It became the first company to refinance federal and private student loans together in 2011. It also offers personal loans, mortgages, and loans for parents who want to borrow to help pay for their child's college.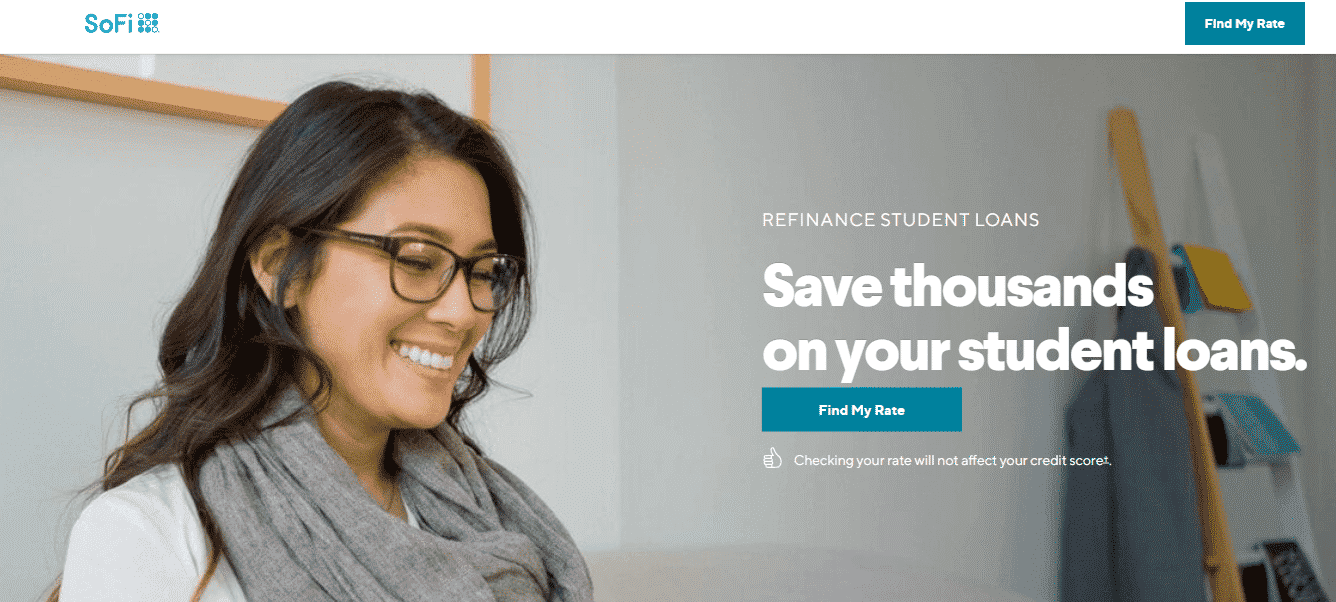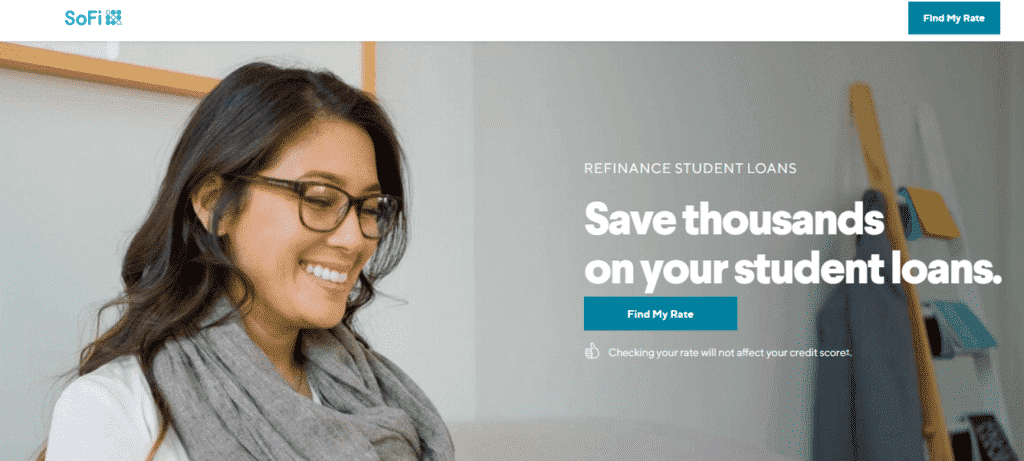 Best For: SoFi is quickly becoming one of the largest providers of student loan refinancing and consolidation. SoFi is good for refinancing or consolidating student loans or anyone that has good or excellent credit score.
Interest Rates: The company currently has a variable rate of 2.25% – 6.88% which is a great rate compared with other lenders.
Loan Length: They currently offer 5, 7, 10, 15, and 20 loan terms. 
Amount: SoFi currently offers student loan refinancing and consolidation for student loans between $5,000 and $300,000.
Criteria: To qualify for SoFi student refinancing, you will need to have excellent credit history and be able to prove that you have an adequate income to pay off the loan.
How SoFi Refinancing Works
The student loan refinancing process is fast, easy, and can be done entirely online.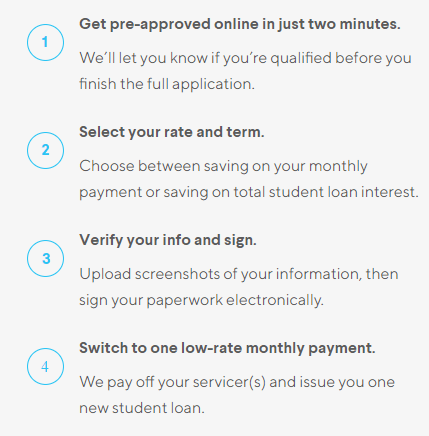 SoFi allows you to save thousands of dollars thanks to flexible terms and low fixed or variable rates. It's a simple online application and access to live customer support 7 days a week. The best part? No application or origination fees and no pre-payment penalties, ever. Plus, SoFi members get career coaching, financial advice, and more—all at no cost.
It's a no-brainer if you want to save money on your student loan payments. You can see how much you can save by visiting SoFi.
SoFi Refinancing Interest Rates
SoFi Loan Length
SoFi Services Offered
Refinancing and Loan Consolidation
SoFi Features
Auto Payment, Career Support, Cosigner Option
SoFi Alternatives
Lender
Rates
Details

1.89% - 5.99%

Variable APR: 1.89

%

- 5.99

%

Loan Types:

 

Variable and Fixed
Terms:

 

5 to 25
Eligible Degrees: Undergrad and Graduate
Eligible Loans:

 

Private and Federal

1.99% - 5.64%

Variable APR: 1.99% - 5.64%
Loan Types:

 

Variable and Fixed
Terms:

 

5 – 10
Eligible Degrees: Undergrad and Graduate
Eligible Loans:

 

Private and Federal
Learn more: Earnest Review

2.25% - 6.88%

Variable APR: 2.25

%

- 6.88

%

Loan Types:

 

Variable and Fixed
Terms:

 

5, 7, 10, 15, 20
Eligible Degrees: Undergrad and Graduate
Eligible Loans:

 

Private and Federal
Learn more: SoFi Review

1.92% - 5.25%

Variable APR: 1.92% - 5.25%
Loan Types:

 

Variable and Fixed
Terms:

 

5, 7, 10, 15, 20
Eligible Degrees: Undergrad and Graduate
Eligible Loans:

 

Private and Federal
Learn more: LendKey Review
Check out our favorite lenders for managing and refinancing your student loans with our other reviews:
Laurel Road Refinancing Review
Would You Qualify?
Now in 2021, more than ever, various private lenders are helping student loan borrowers refinance at lower rates and save thousands of dollars in interest — that is, borrowers with good credit.
Before you decide if student loan refinancing is right for you, you should check to see if you would qualify.
Here are some common eligibility requirements:
Good credit score
Each lender will have a different credit score requirement, but typically you'll want to have a credit score of 700 or above.
Have a college degree
You should have graduated with an associates' degree or higher from a Title IV school.
Employed
Most lenders require that you are employed or have sufficient income from other sources, or have an offer of employment to start within the next 90 days.
Good repayment history
You'll want to be current on your bills, credit cards, and other loans, including student loans.
*Once you have determined that refinancing your student loans is right for you, we would recommend reviewing your credit report.
You can get your credit report for free by using AnnualCreditReport.com. If there are any discrepancies on the report, dispute them. This could improve your score and, in turn, improve the terms of the loan.
Why Should You Refinance?
It's simple to check your rate and can save you a lot of money
There are a lot of competing student loan companies and that's good for you. That means you can get the best possible interest rate which can save you a lot of money. The average user saves $18,668 when refinancing. You can check your rate for all of the lenders on this page in under 3 minutes.
If you have a high interest rate on your student loans
Fortunately, for many graduates, refinancing can be a great opportunity to help with loan payments. If you have federal or private student loans with an interest rate over 4%, then refinancing them will save you a lot of money. 
Student loans with 6.8% interest rates mean that you'll need to pay $586 a month in interest alone for every $100,000 you owe. You could also refinance your student loans to a longer term to help lower your monthly payments.
If you don't qualify for public student loan forgiveness
Public student loan forgiveness (PSLF) was created in 2007 in order to encourage graduates to pursue full-time work in public sectors including nonprofits and government organizations. If you are working in one of these fields, and have been consistent with your payments, it's best to weigh your options and see if refinancing or PSLF will save you more money over the life on your student loan.
Frequently Asked Questions About Refinancing
What's the difference between refinancing and consolidation?
Consolidation simply means combining multiple student loans into one loan, but you get different results by consolidating with the federal government vs. consolidating with a private lender. Student loan refinancing is when you apply for a loan under new terms and use that loan to pay off one or more existing student loans.
Would you recommend student loan refinancing?
The biggest benefit of refinancing your student loans is receiving a lower interest rate than your previous student loans carried, which will save you a lot of money over time. 
Are my student loans federal or private?
To get a list of your federal student loans, go to the National Student Loan Data Services website maintained by the U.S. Department of Education.
99% of all federal student loans are listed on the National Student Loan Data Services website. If a particular student loan is not listed there, it is most likely a private student loan.
What are the benefits of auto payment?
Set up an automatic direct debit from your checking account to make the monthly payments on your loans. Borrowers with auto-debit are much less likely to miss a payment. Many lenders offer discounts for borrowers who set up auto debit. Federal loans offer a 0.25% interest rate reduction while private student loans often offer a 0.25% or 0.50% interest rate reduction for the remainder of the repayment period. Some lenders will require electronic billing to get the discount.
What company should I refinance my student loans with?
There are hundreds of companies out there that will help you refinance your student loans, but a select few rank above the rest. The five best, are SoFi, Laurel Road, Commonbond, LendKey, and Earnest. All 5 of these companies offer competitive rates with a variety of term lengths, ranging from 5 years to 20 years.
What will my new lower interest rate depend on?
The actual interest rate you will receive is based upon your credit score, income, savings, degree type, and/or presence of a co-signer. To increase your chances of getting approved and receiving the lowest interest rate, it is recommend applying with a co-signer.
Should I be aware of student loan debt relief scams?
Yes. Student Loan Debt Relief Companies and Student Loan Debt Law Firms are very different. Student loan companies are often in the news for scamming student loan borrowers.  On the other hand, debt relief attorneys are held to specific ethical and legal standards to act in their clients' best interest.  If they don't follow these standards, they will be disbarred.
If you are solicited by a student loan debt company – BEWARE!  This is a red flag and means they probably obtained your information from a list that they bought.  Most of these companies are just out to make a buck and don't really care about your personal student loan debt struggle.
What should I do if I have Federal and Private student loans?
If you have private and federal loans, SoFi may be your best bet, as they will refinance both loan types together. It is important to apply to several different lenders. Odds are not all of them will offer the same interest rate and terms, so shop around and get the best deal you can find. You can check your rate in under 3 minutes.
What's the best way to pay off student loans?
Make an overall budget for your monthly income and expenses to include your student loan payments.  Make sure you have all payment due dates noted. Use a spreadsheet or an app to help you track where and how you spend your money.
Set up automatic payments for your student loans, so you don't miss any. Some lenders often a small discount on your interest rate if you set this up.
Accelerate repayment of high interest student loans first.  You always want to tackle high-interest loans of any kind first.
Lender
Rates
Details

1.89% - 5.99%

Variable APR: 1.89

%

- 5.99

%

Loan Types:

 

Variable and Fixed
Terms:

 

5 to 25
Eligible Degrees: Undergrad and Graduate
Eligible Loans:

 

Private and Federal

1.99% - 5.64%

Variable APR: 1.99% - 5.64%
Loan Types:

 

Variable and Fixed
Terms:

 

5 – 10
Eligible Degrees: Undergrad and Graduate
Eligible Loans:

 

Private and Federal
Learn more: Earnest Review

2.25% - 6.88%

Variable APR: 2.25

%

- 6.88

%

Loan Types:

 

Variable and Fixed
Terms:

 

5, 7, 10, 15, 20
Eligible Degrees: Undergrad and Graduate
Eligible Loans:

 

Private and Federal
Learn more: SoFi Review

1.92% - 5.25%

Variable APR: 1.92% - 5.25%
Loan Types:

 

Variable and Fixed
Terms:

 

5, 7, 10, 15, 20
Eligible Degrees: Undergrad and Graduate
Eligible Loans:

 

Private and Federal
Learn more: LendKey Review