Looking for an honest Credible review?
Everyone with student loan debt wants to beat student loans.
If you aren't crushing your student loan debt payments every month then you should try something new: refinancing.
If you have federal or private loans then try getting a much lower rate by using the Credible loan marketplace.
Other companies offer similar services, but Credible stands out by comparing prequalified refinancing rates from up to 8 lenders without affecting your credit score. 100% free!
What's not to love? The average Credible user saves around 2 interest points on their average Federal loans. We will learn more about this company in this Credible review.
What is Credible?
Credible is the best way to save money on refinancing student loans, private student loans, and personal loans. Easily compare top lenders and find low rates in minutes!
The company works like an online marketplace that provides borrowers with competitive, personalized loan offers from multiple, vetted lenders in real time.
Credible features
Refinance federal, private and ParentPLUS loans
Lower your interest rate or reduce your monthly payment
Compare prequalified rates from up to 8 vetted lenders in 2 minutes
How to refinance student loans with Credible
Fill out a quick simple form (2 mins)
One form to access options from top lenders
Checking your rates won't affect your credit score
Your information is not shared with lenders at this point
Choose an option you like (2 mins)
Easily compare your prequalified options in one place
Use our comprehensive tools to quickly find a plan for you
Get actual rates based on your credit profile, no estimates
Provide your loan details (3 mins)
Use our easy import tools to add the loans you want to refinance
Provide some additional details about yourself
Get your final offer in as little as 1 business day
Join thousands of others who have already saved by refinancing.
Enter your info at Credible to find out what your new interest rate could be.

Visit Credible
Would you qualify for student loan refinancing?
Now in 2019, more than ever, various private lenders are helping student loan borrowers refinance at lower rates and save thousands of dollars in interest — that is, borrowers with good credit.
Before you decide if student loan refinancing is right for you, you should check to see if you would qualify.
Here are some common eligibility requirements:
1. Good credit score
Each lender will have a different credit score requirement, but typically you'll want to have a credit score of 700 or above.
2. Have a college degree
You should have graduated with an associates' degree or higher from a Title IV school.
3. Employed
Most lenders require that you are employed or have sufficient income from other sources, or have an offer of employment to start within the next 90 days.
4. Good repayment history
You'll want to be current on your bills, credit cards, and other loans, including student loans.
*Once you have determined that refinancing your student loans is right for you, we would recommend reviewing your credit report. You can get your credit report for free by using AnnualCreditReport.com or Credit Karma. If there are any discrepancies on the report, dispute them. This could improve your score and, in turn, improve the terms of the loan.
Why should you refinance your student loan debt?
1. It's simple to check your rate and can save you a lot of money
There are a lot of competing student loan companies and that's good for you. That means you can get the best possible interest rate which can save you a lot of money. The average user saves $18,668 when refinancing. You can check your rate for all of the lenders on this page in under 3 minutes.
2. If you have a high-interest rate on your student loans
Fortunately, for many graduates, refinancing can be a great opportunity to help with loan payments. If you have federal or private student loans with an interest rate over 4%, then refinancing them will save you a lot of money. Student loans with 6.8% interest rates mean that you'll need to pay $586 a month in interest alone for every $100,000 you owe. You could also refinance your student loans to a longer term to help lower your monthly payments.
3. If you don't qualify for public student loan forgiveness
Public student loan forgiveness (PSLF) was created in 2007 in order to encourage graduates to pursue full-time work in public sectors including nonprofits and government organizations. If you are working in one of these fields, and have been consistent with your payments, it's best to weigh your options and see if refinancing or PSLF will save you more money over the life on your student loan.
Credible review summary
If you aren't crushing your student loan debt payments every month then you should try something new: refinancing with Credible.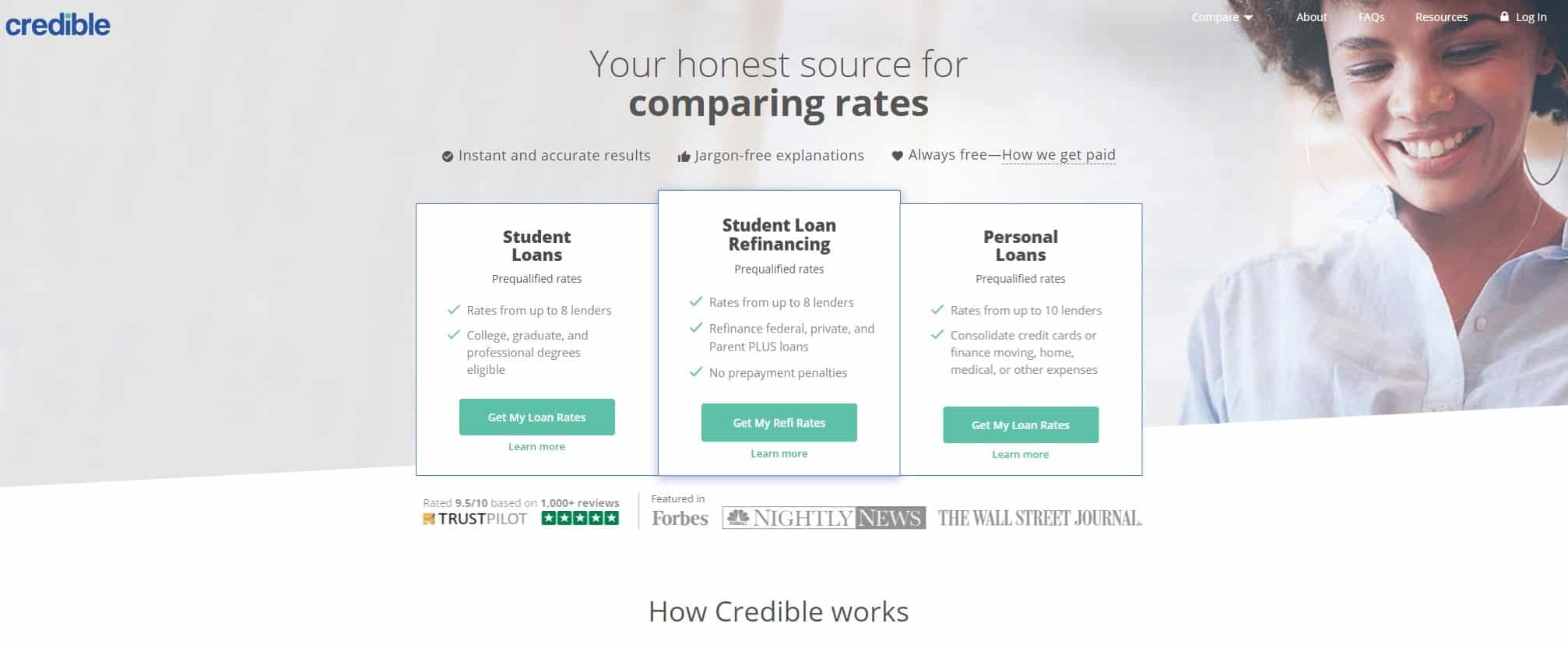 Visit Credible
For you: Have you enjoyed reading our Credible review? Have you used them to refinance your student loans or what was your experience like?