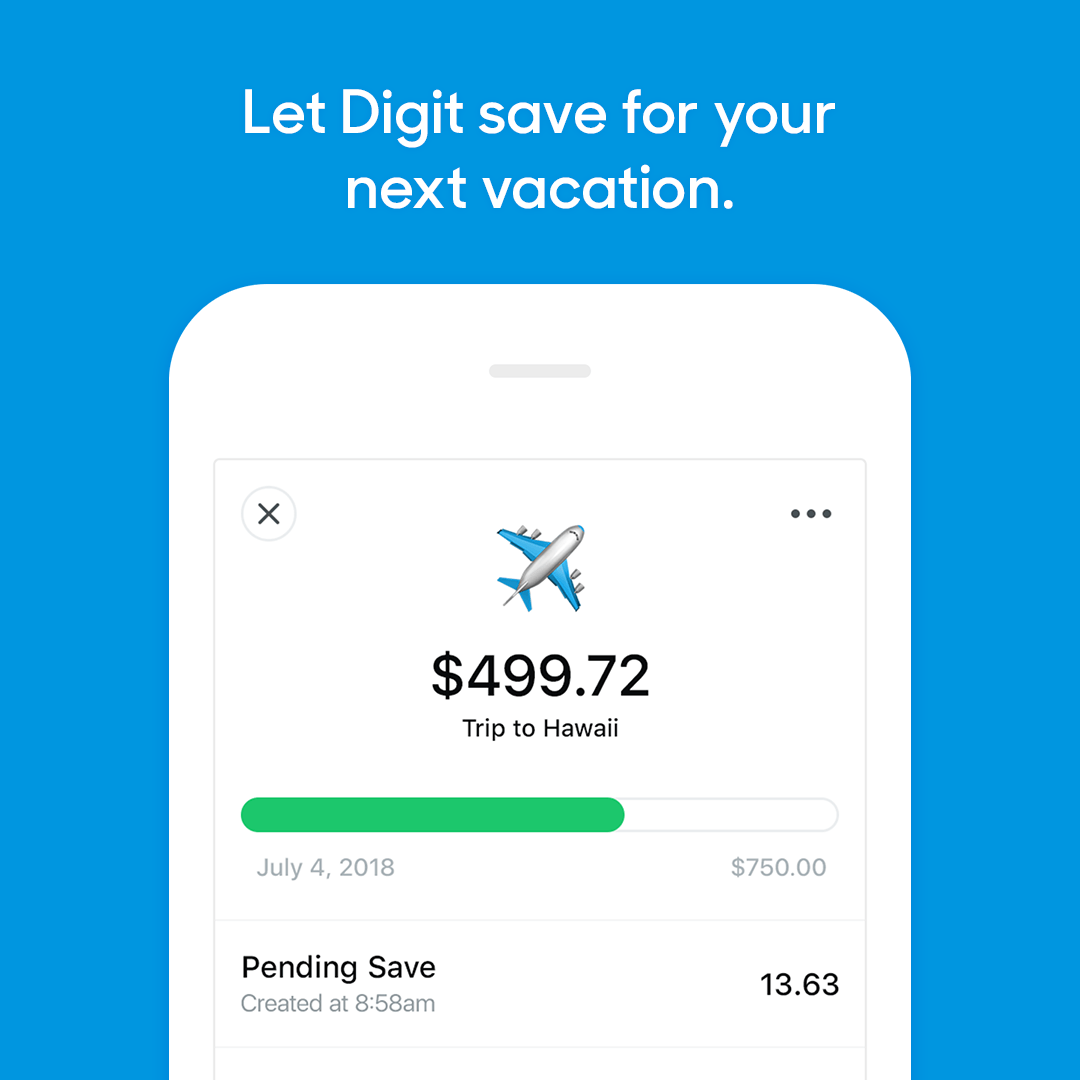 Is Digit legit? The short answer is that it is one of our favorite apps that we can't get enough of is the Digit app. By saving a little bit every day, your Digit App savings can really add up.
Almost all of us would agree that setting aside savings is important for our overall financial health.
However, for most of us, the most difficult thing about saving money is figuring how to get started.
Wouldn't it be easy to learn how to save money and get paid to do it?
Believe it or not, there is with money-saving apps like Digit.
Here are some quick facts about the Digit saving app.
Quick facts about the Digit money saving app:
Saving money used to be hard. Now it's easy!
Digit is the effortless way to save money without thinking about it.
Every day, Digit checks your spending habits and moves money from your checking account to your Digit account, if you can afford it.
Available for iOS, Play Store, and Twitter.
Let's learn more in my Digit app review.
What is Digit?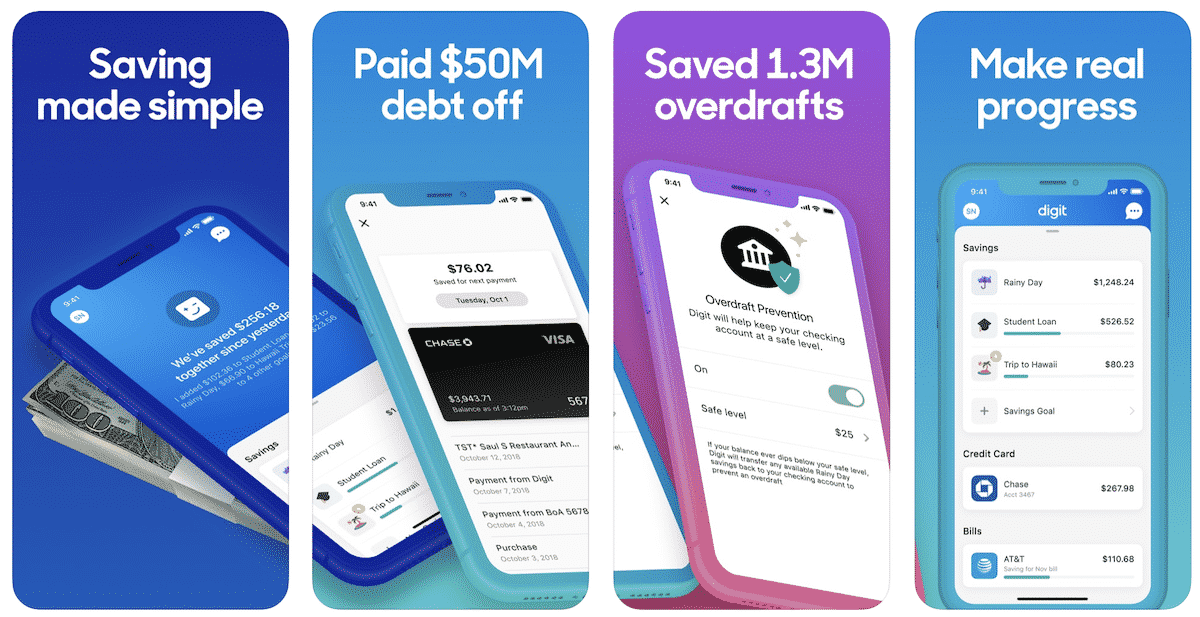 Digit is essentially an money-saving and money-making app with a goal of making savings a mindless task for its users. The app is a micro-savings platform that analyzes your spending to determine the perfect amount that you can save over time. Then it makes automatic withdrawals and transfers it to your savings without you even thinking about it.
As Digit's CEO Ethan Bloch had it, the goal of the app is to make saving as easy, stress-free and automatic as possible even if you're a broke college student.
It can help you:
1. Digit analyzes your spending habits.
2. And automatically moves the perfect amount to a secure Digit account.
3. So that you can manage your savings and achieve your financial goals.
Simply put, Digit does all the hard work of getting started with your savings. You can go with your regular financial habits and the app figures out how much can be the extra amount and move it into your savings. And, all that is done automatically so you won't even notice it.
Digit is completely free to try for 30 days. After your trial period, a monthly subscription costs $5 and can be canceled anytime.
Why Do I Personally Like Digit?
Managing your money can be hard. Saving money for the future is even tougher. But what if you could easily save a little bit, only what you can afford, every single day?
Digit is your smart financial assistant, helping you to achieve your goals. Without even thinking about it. Pay off debt, plan a vacation, save for a house, or, put a little aside in a rainy day fund. Save your money, easily and securely, with Digit.
Digit Money Saving Features
Save the perfect amount of money every day based on your income and spending.
Save for an unlimited number of goals, with recommended timelines for achieving them.
Pay off more of your debt, with precise amounts determined by your income and spending habits.
Get overdraft protection with notifications for when your account balance is low.
Withdraw your money as often as you like. No fees, no minimums.
Earn 0.5% annually on your Digit savings. That's 7X more than most savings accounts!
Bank-level encryption software keeps your funds and personal information secure.
DIC-insured banks maintain your Digit savings, insured up to a balance of $250,000.
Is Digit Legit?
Building your savings is simple and totally legit with Digit.
This innovative app saves your money without you having to lift a finger.
Simply link it to your checking account, and its algorithms will determine small (and safe!) amounts of money to withdraw into a separate, FDIC-insured savings account.
Bottom line: Digit customers have saved over a billion dollars. If you are at all interested in saving money, you should be using the free Digit app.
Digit App Savings
Ultimately, the goal of Digit is to push non-savers to save money. All you need to do is sign up for the app and connect your checking account.
The app works by evaluating your financial lifestyle and spending patterns and moves the extra money to your Digit account. The amount of extra money the app automatically transfers will depend on different factors including your checking account balance, your upcoming income, upcoming bills (like paying off student loans) and your recent spending.
The Digit app is free for the first 30 days. After that, you'll be charged $2.99 monthly and you can cancel anytime. It offers a 1% annual savings bonus when you save using the app for three consecutive months.
Funds held are FDIC insured, up to $250,000 per depositor. It also enables you to make convenient transactions using your phone SMS services and allows unlimited withdrawals 24/7. When it comes to security, the app utilizes advanced 128-bit encryption to enhance protection of sensitive user information and transactions.
Pros/Cons of Digit
Pros
A great set-it-up-and-forget-it app which makes saving easier and automatic.
Simplified savings goals.
You get an annual savings bonus of $1.
It's easy and convenient to use and you don't have to set up a savings account to use the app.
Cons
Monthly charge of $2.99. Think before you start paying any amount to save money.
Not available internationally, as it's only currently available for US-based users.
Customer contact is limited, no phone or chat support. So, if you have concerns the closest thing you can do is contact them via email.
Digit Money App Reviews
The digit app has an average 4.7 rating out of 206,937+ reviews on the App Store and a 4.6 rating out of 35,358 votes in the Google Play store.
But did you know there are other apps like Digit?
Apps like Digit
Since one of our favorite automated savings apps, Digit, announced that they would be adding a monthly fee we were looking for other comparable saving apps.
So here are other round-up budget apps like Digit:
Digit Competitors
Qapital
Qapital is a new way to bank that lets you save for the things you want, just by doing the things you do
This app makes saving is effortless, motivating, and even a little fun.
Rounds up change to nearest dollar and moves it into savings
Allows specific goals to be set and named
Acorns
Invest your spare change automatically.
Join almost 4000000 people saving and investing every day.
Sign up in no time to save and invest more money
Money is invested in portfolio based on income and goals
Digit Promotional Code
Bonus: Beat Student Loan readers can sign up for free. Additionally, savers will receive a 1% bonus every three months through this promotional link.
Digit App Summary
The Digit app can be a great platform to launch your savings habit for short-term savings goals. It can help you build your money management skills and make saving money for your goals easier.
Join the finance revolution that's saved users over a 2.5 billion dollars. Featured in Business Insider, Elle, Bustle, Money Peach and US News, Digit helps you to manage your money and improve your financial health.
The best thing about the app is that it does everything automatically for you.
If you are a non-saver the Digit app savings can help push you to become one. You can get started savings with Digit here.