We have all been there, you need the money and you need it fast. Whatever your reason (emergency, car breaks down, medical bills), whatever the situation, you just can't wait.
In some scenarios, getting a quick loan is an excellent option if you use basic financial literacy skills to access your situation.
So how would you go about doing that?
It isn't as hard as you may think!
Take a look at what you need to know when applying for a quick loan with our helpful guide.
What is a Quick Loan?
A quick loan is exactly as it sounds- a way to get money fast. Quick loans are personal loans that are funded by a lender in a very short amount of time.
While some loans may take days, weeks or sometimes months to be approved and then funded, quick loans are fast and simple, sometimes getting your money within the same day that you apply.
Quick loans are typically offered by banks, credit unions, and online lenders. They can be structured as an unsecured loan, where you do not need to offer collateral on the loan such as a vehicle or your home.
1. Personal Loans
One type of quick loan is a simple unsecured personal loan. The interest and the amount of money you are able to receive will vary depending solely on your credit history and current financial standing.
With this type of quick loan, you will get your cash in one lump sum and then make installment payments over a set time period.
Can you get a no-credit-check loan?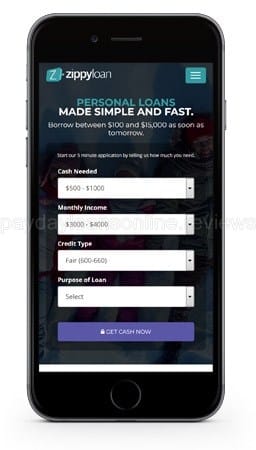 If you actually need money right now, then you can opt for a personal loan. When you need money in a hurry ZippyLoan is where to go.
You apply for a loan through the Zippy Loan site, if approved they send your loan application to one of many loan providers.
You review the loan details and e-sign if you like what you see.
No risk in checking what offers you'll get.
You can borrow between $100 and $15,000 as soon as tomorrow.
Loans service for up to 60 months.
ZippyLoan connects borrowers to lenders through their network of lenders. They'll find you the lowest interest rate and is one of the best no credit check loans . You can visit ZippyLoan here.
2. Personal Credit Line
A personal line of credit is like a credit card but funded through a financial institution and given to you as cash.
You can take out money up to a certain set limit and then pay it off as you would a credit card.
The only difference between a personal line of credit and a credit card is that you receive cash rather than a card to use at retail stores.
This can be beneficial if you need to have real cash!
3. Car Title Loan
A car title loan is a secured personal loan where your vehicle's title or registration is left to the lender until you pay back your loan.
If you do not make payments on your loan, the lender can have your car repossessed or seized.
If you need a quick loan and know that you will be able to pay it back quickly, this can be an option for you.
However, be well aware that many predatory lenders are the ones backing car title loans and you should be very careful when agreeing to the terms of the quick loan.
What To Be Careful of With Quick Loans
The biggest thing to pay attention to when looking for a quick loan is the interest rates and the repayment terms.
Take out a quick loan that you know you can pay back in the amount of time designated. This will help you avoid excessive charges and fees and still be able to get the money you need when you need it!
Study after study has shown that the majority of people live paycheck to paycheck which means at some point, you may need to rely on a quick loan to help you out.
Work only with reputable lenders and understand the terms of your quick loan.
Do these few, easy things and your quick loan experience will be a good one!